Author: Kate Clements / Category: Drinks / Published: Dec-28-2018
Whether it's your man cave, bachelor pad, or the corner of your tiny apartment, a well placed bar cart can give the room a very inviting feel. Plus it has everyone's favorite beverage: Alcohol!
The set up of a bar cart can make or break the look. It can be easy to cross the line from looking like an eclectic drinker to an alcoholic hoarder. That's why I'm here. I took to the mean streets of Pinterest and Reddit to help you design the perfect mini bar on wheels.
I love the look of this bar cart. The finished lumber that makes the base and piping that has been used as the structure has a vintage industrial look to it. Of course, the probation poster definitely adds to that look. It's always nice to add a poster or picture over the bar cart to add another level of appeal. Now, let's get down to it!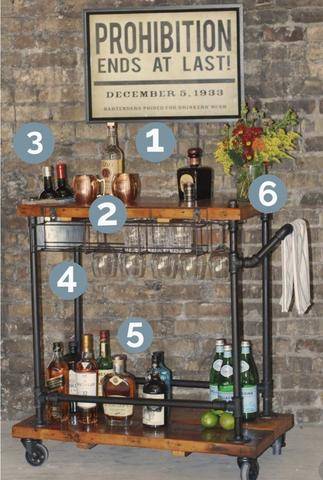 1. The Top Shelf Drinks
Up on top should be a bottle or two of your favorite/most frequently used alcohol. This way it's easily accessible for your night cap!
2. Two Cups of Your Favorite Drink 
Unless you are having more people over, only keep two cups on the top shelf. Anything more than that, it will look cluttered and get in the way while you try to make drinks. The Moscow Mule copper mugs in the image above really add to the whole industrial vibe too.
3. A Bottle of Wine is Always a Great Addition 
Even if you don't like wine, it's so versatile and not quite as strong as liquor that a guest or two will definitely appreciate it.
4. Glasses
Not every cart will have glass racks on it, so you can always put them on the lower shelf. 4 more glasses down below is a great number to stick with to avoid a crowded look. This is not your kitchen cupboard. Plus, if you plan on having more people over, simply add some more glasses the day of.
5. Bottom Shelf Drinks
Putting drinks on the bottom shelf does not mean they are bad quality. The bottom shelf is where you should keep your nicer bottle of alcohol that you are saving to share. Also, the bottom shelf is a great place to keep a tumbler if you don't use it often.
6. A Splash of Style
It doesn't have to be flowers, but a piece of art or a stack of your most impressive books can make your cart a stylish focal point!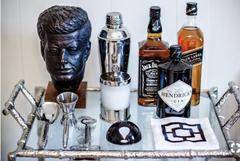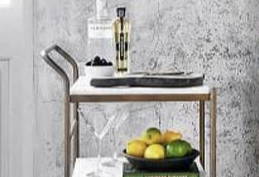 Like Politics? Add a nice bust of your favorite president! You could also do this with a bust of Kermit the Frog if you like to confuse your friends.
You could also do this with a bust of Kermit the Frog if you like to confuse your friends.
If you have a smaller space, you can always down size to a 3 shelf cart. If you like a nice minimal look around your house instead of using flowers or a bust, a bowl lemons and limes is a perfect pop of color with a practical purpose!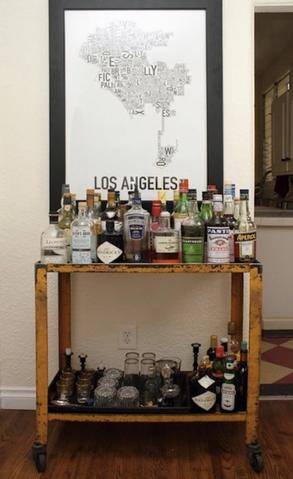 Do not stuff absolutely all of the alcohol, mixers, glasses and candles onto your bar cart. In the bar cart below, there isn't even an easy place to make a drink, which is supposed to be the point.
---
There it is. It's not all that difficult and VERY functional. Fill your cart with whatever makes your heart sing, and maybe consider the Kermit the Frog bust. Cheers from the Concrete Jungle.